Working Ranch Vacations
In Wyoming, Cowboys still ride the range...
Imagine if the biggest decision you had to make after your morning coffee was whether to spend the day fly fishing or working cattle with a member of our friendly ranch crew. At M&M Ranch Vacations and Outfitting, we give you that opportunity.
We are located just outside of the history-rich town of Medicine Bow, Wyoming. The town supplied the inspiration for Owen Wister's famous novel "The Virginian", considered by historians to be the first "western" novel. In the early 1900s, Medicine Bow was the largest shipping point in the U.S. for cattle being sent east by rail. The entire Medicine Bow area is steeped in tales of cattle barons, outlaws, pioneers and Indians.
We sit in the Shirley Basin surrounded by three separate mountain ranges. Each offers its own unique beauty and array of activities. The area and surrounding mountains are teeming with wildlife which makes the area popular with sportsmen, fishermen and nature photographers.
We offer our clients the opportunity to partake in the daily activities of a real working cattle ranch. This is not a dude ranch. We do not pamper you or sugar coat the realities of ranch life. You'll soon discover that the Hollywood portrayal of the West entails more than a ride off into the sunset. You'll actually become part of our crew and gain invaluable hands-on ranch experience.
With over thirty thousand acres of rugged ranch land and three thousand head of cattle, there are always ranch activities to participate in. Instead of sending you on a meaningless nose to tail ride without a purpose, we'll give you a mission with a tangible outcome. Rather than being simply an observer, you'll be a cog in the wheel of our daily ranch duties. Most of the ranch duties are done on horseback, so come ready to ride. Guests may bring their own horses for an unequaled training experience, or you can use one of our well broke ranch horses. Each guest is encouraged to "jump in and get his/her feet wet" and walk away feeling fulfilled and well acquainted with ranch life.
M&M Ranch is unique in the fact that we take no more than four adult guests a day. (We are able to accommodate larger groups for special events.) By being part of a small group you'll gain hands-on experience, instead of being forced to watch the action from the periphery. We are able to accommodate larger groups for special events such as our spring cattle drives or our fall gather.
The Medicine Bow/Carbon County area offers a wide array of recreational activities. We are a short drive from many popular vacation destinations. From golfing to fishing the famed 'Miracle Mile', you will not be disappointed in what Wyoming has to offer.
We invite you to experience a unique and meaningful vacation with our ranching family. You may walk away from here a little sore, but invigorated. You'll gain an inside view into the lives of those that live off of the land and reside in 'God's Country'. You'll take home amazing memories to sustain you until you can visit our family again.
We invite you to take part in our annual spring cattle drives and fall gathers. We will gather over three thousand head of cattle from thirty thousand acres of some of the roughest country in Wyoming. It can be a daunting task and not one that gets done quickly. Come prepared to spend long days in the saddle and leave our ranch with a gratifying sense of accomplishment.
For the adventurous soul craving an authentic western experience we are offering overnight trips which incorporate everyday ranch duties with a night under the stars. Spend a full day in the saddle and culminate the experience with a campfire cooked meal, and a restfull night in a bedroll.
$200 per day, $300 for overnight cattle drive (camping). Two party minimum.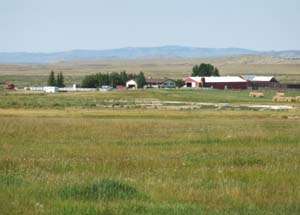 M&M Ranch House and Outbuildings